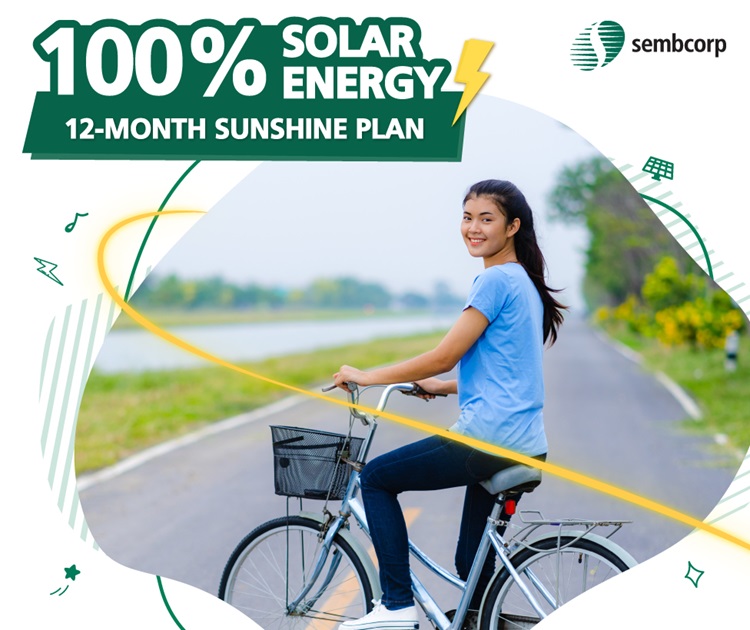 Terms and conditions:
HSBC General Promotion Terms & Conditions apply. Click here for more information.
This Promotion is valid from 1 March 2022 to 31 December 2022.
This Promotion is limited to 1 redemption per customer only.
Cardholders who sign up for the 12-months Sembcorp Power residential electricity Sunshine plan ("Sembcorp Power Plan") are eligible to participate in this Promotion.
Cardholder must fulfil the following steps to be considered as a "Qualified Customer(s)":
This Promotion is applicable to new customers who are setting up recurring card payment for the first time with a HSBC credit card.
Must be a new Sembcorp Power customer.
Be among the first 150 customers to sign up with the promo code.
For the avoidance of doubt, this Promotion is not applicable for Cardholders who did not input the promo code.
Under the Promotion, Cardholder will receive the bill rebate if he/she fulfils all the following:
Successfully sign up for a 12-months Sembcorp Power residential electricity Sunshine plan ("Sembcorp Power Plan").
Inputs Promo Code during the online sign-up process.
Cardholder must charge their Card the full amount of their Sembcorp electricity bill.
For new sign ups, Cardholder must charge the security deposit to their Card at point of sign up.
Successfully sets up a recurring payment arrangement at point of sign up and makes first recurring payment for the Sembcorp Power Plan to an HSBC Credit Card by the relevant stipulated dates.
The Rebate will be credited by Sembcorp Power by the relevant stipulated dates and used to offset the Cardholder's recurring Sembcorp Power electricity bill of the new contract, excluding security deposit and all non-electricity usage related charges. If the electricity bill amounts to less than the value of the Rebate, the remaining value will be used to offset the subsequent electricity bill(s).
An Eligible Cardholder who refunds, terminates or disputes the recurring bill arrangement or the new Sembcorp Power plan before he/she receives the Rebate will forfeit the Rebate.
Each Cardholder is only entitled to receive a one-time rebate under this promotion (respective to the promo code used by the Cardholder) regardless of the total number of premises / Sembcorp Power Contracts the same Cardholder signs up or renews with Sembcorp Power.
If any amount of the Rebate is not utilised by the HSBC credit cardholder, upon the expiry or termination of the Sembcorp Power Plan, such unutilised Rebate will be forfeited. The Rebate shall under no circumstances whatsoever be paid out in cash or in kind to any party.
Save for existing credit card promotions, this Promotion is not valid with other promotions, special discounts, roadshow activations, and at MyRepublic Stores, unless otherwise stated.
HSBC and Sembcorp Power reserves the right to claim back the full sum of Rebate as cash from the Qualified Customer in the event of an early termination of the Sembcorp Power Plan for any reason that is no fault of Sembcorp Power.
Sembcorp Power referral programme is applicable for this Promotion. Sembcorp Power Referral program is exclusive for customers who sign up online for Sembcorp Power residential electricity plans only and cannot be used at any roadshow locations, MyRepublic stores or any sign-ups via any agent of Sembcorp Power. Referral Code is not applicable for Renewal Plans, Sembcorp Staff Plan, No Contract Plan, Corporate Individual Scheme (CIS), Groupbuy and cannot be used in conjunction with any other promotions or campaigns unless otherwise stated. Please refer to the Referral Program General T&Cs, respective price plan factsheet and price plan summary for eligibility.
By participating in this Promotion, the Cardholder deems to have read and agreed to the terms and conditions of the Promotion.